A trio of Hawkes Bay radio amateurs visited Wellington recently to attend the 2006 Radio Expo and to spend time operating from Quartz Hill.
Extracts from the April 2006 edition of "Breakout" the monthly magazine of the Napier and Hastings radio clubs give an account of the visit.
Napier Hams Visit ZL6QH
"A Boys Weekend Away"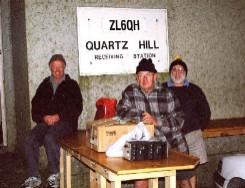 Mike ZL2VM, Colin ZL2CL, Dave ZL2DU
The 8th April 06 at 0440hrs saw us on the road heading for Wellington, arriving about 0900hrs (one hour too early) at the Hutt Valley "Wellington Amateur Radio Expo". At the Expo we did much socializing and perusing of the tables and junk for sale, we even bought stuff. After lunch we travelled out to Quartz Hill where we stayed the night and attempted to work the world, we could hear the world but our TX ability was abysmal, 6 successful European contacts for the whole time. I'm told that there was an aurora occurring and that would be the cause of our problem. Geoff ZL2BDW shared the site with us and despite running Vee beams pointing at the USA and a linear on 20m he could not be heard. There were USA stations calling him because they knew he would be there but no way could he be heard on either long or short path. We were, as always, impressed with the array of aerials at the "farm" and it has gained some wire yagis since I was last there in 2000. QH is a very bleak place that overlooks Cook Strait and of course one can see the South Island easily. There are lots of poles up and about and many Vee beams and other wire aerials (Vee beams with legs of 300m long to suck signals from various directions, and they do that very well in the electrically quiet environment). On the Sun. morning we worked the Branch 13/25 net on 80m using an 80m sloper and after a cuppa it was time to head home having some lunch in Carterton. Home was bright sunshine having had rain all the way until just nth of Norsewood. We extend our thanks to Bob ZL2AMI and Geoff ZL2BDW for helping us out re QH and making a great weekend for us guys.
73's David ZL2DW, Colin ZL2CF, Mike ZL2VM
Posted by ZL2AOH on April 13, 2006